Ponies bred on Dartmoor compete at Exeter Racecourse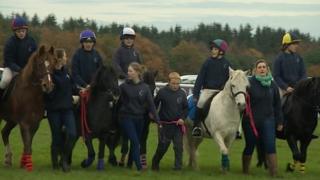 Ponies bred on Dartmoor have competed at Exeter Racecourse for the annual Devon Day event.
Children race the ponies around the course in aid of Cancer Research ahead of the main races.
Seven Clydesdales horses also took part in the event to raise awareness of the breed, which is regarded as "at risk" by the Rare Breeds Survival Trust.
Charlotte Faulkner, of the Friends of the Dartmoor Hill Ponies group, said the children's race was "a bit of fun".