Devon curbs on obesity surgery under fire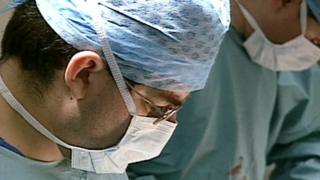 Surgeons have described plans to ration operations for obese patients in order to save money as "unacceptable".
The Royal College of Surgeons, said for some patients "it may not possible" to lose weight without surgery.
A review is under way by Northern, Eastern and Western Devon Clinical Commissioning Group (CCG) which faces a £14.5m deficit.
The CCG says surgery on obese people has a higher risk and it has to prioritise funds.
The CCG, which covers all of Devon apart from Torbay and south Devon, is considering:
Requiring morbidly obese patients to lose weight prior to routine surgery
Requiring smokers to quit for at least six weeks before routine surgery
Introducing criteria-based approval for routine procedures such as hernias, botox injections and cataracts
Reducing unnecessary consultant-to-consultant referrals
Suspending treatments where there is little or poor evidence of beneficial outcomes
Restricting non-elective caesarean birth operations
Restricting drugs to test for wet macular degeneration in eyes
Prof Michael Horrocks of the Royal College of Surgeons said the CCG was creating a "labyrinthine process" for referring patients in need of surgery.
He said: "The need for any surgery should always be judged by a surgeon, based on their clinical assessment of the patient and the risks and benefits of the surgery for the patient - not determined by arbitrary criteria.
"Weight loss management is an important consideration for patients requiring hip and knee replacement, but for some patients it may not possible to continue to lose weight without surgery to allow an increase in exercise."
Dr David Jenner of the CCG claimed any changes made after the review would be temporary to evaluate their impact.
"It's not a situation that we look forward to but our own financial situation means that do have to ensure that we have enough money to make sure that emergency care and things like cancer treatments are preserved," he said.