Dartmoor Zoo in charity crowd funding bid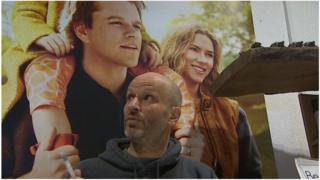 A zoo which featured in a Hollywood film could become a charity in a bid by the owners to avoid job cuts.
Family-owned Dartmoor Zoo in Devon has launched a crowd funding appeal to raise £1.6m.
Zoo director Ben Mee said the zoo was losing money and a charity's tax-free status and access to more grants would put it in the black.
The zoo featured in the 2011 film We Bought a Zoo starring Matt Damon and Scarlett Johansson.
The Mee family from Surrey bought the zoo in 2006.
Mr Mee said: "The film got us through some tough times.
"But the zoo has been running reliably at a loss every year apart from one or two years.
"As a charity, the zoo would be profitable.
"If we remain operating as we are we would have to lay off three people."
---
Dartmoor Zoo
1968: Opened as Dartmoor Wildlife Park
2006: Bought by Mee family for £1.1m
2011: We Bought a Zoo released starring Matt Damon and Scarlett Johansson
Employs: 35 people
Animals: Tigers, cheetahs, lions, wolves, raccoons, foxes, bears
---
Mr Mee said he was trying to raise enough money to buy the site from the other members of his family including his mother, sister and brother who will be in line to get their share of the zoo's £1.1m purchase money back in the crowd funding move.
He had tried to get a mortgage from a bank but had been rejected.
Mr Mee's plan is to hand over the zoo to a charitable trust and he will remain as landlord of the site and lease it to the charity.
Everyone who donates will get an ebook about the zoo.
Mr Mee wants to increase the amount of conservation and education work at the zoo in order for it to be considered for charitable status by the Charity Commission.
"Charitable status is a zoo's natural habitat," he said. "It's like releasing the zoo into the wild."