Exmouth eBay fake cosmetics woman must pay £25,000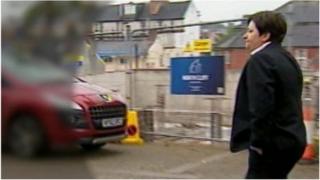 A woman who sold fake cosmetics on eBay from her home has been ordered to pay nearly £25,000 after a court hearing.
Deborah Hamber from Exmouth, Devon, was a High Court Bailiff when she sold items including mascara that contained twice the permitted level of lead.
She also sold fake MAC, Bare Essentials, Urban Decay and Lancome cosmetics from China.
She was handed a confiscation order at Exeter Crown Court for the amount for which she had sold the fakes.
It followed a confiscation investigation under the Proceeds of Crime Act.
Hamber, who was given a suspended jail sentence in May and lost her High Court job, has six months to pay the £24,720 and faces a 14-month prison sentence if she does not.
Hamber had 900 fake cosmetics items at her home when it was raided by trading standards officers.
Councillor Roger Croad, Devon County Council's cabinet member with responsibility for trading standards, said: "This legislation helps us to ensure criminals do not keep all the proceeds of their crimes.
"A percentage of the money paid will now be used in crime reduction and community initiatives, which is excellent news."