Accent Gem moth in Devon is 'second sighting in UK since 1969'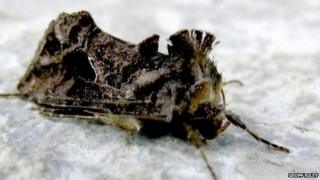 An African moth has appeared in Devon in what is thought to be only the second sighting of the species in the UK for several decades.
The Accent Gem has not been seen in the UK for 45 years, said Butterfly Conservation.
One of the moths was discovered about two weeks ago by Dave Wall in Exmouth, probably blown in on warm southerly winds, said Butterfly Conservation.
It said the last sighting of the species in the UK was in Kent in 1969.
'Very pretty'
Mr Wall said: "I run a moth trap in my garden and often get a lot of migrant species because of being so close to the coast, but this was different.
"I didn't recognise it at first and had to look through my books and contact the Devon Moth Group to get it confirmed.
"Once we knew what it was, I just couldn't believe it.
"When you first look at it you might think it's not that special, but for such a tiny moth to have come such a long way is amazing.
"It's actually very pretty too, with these dark triangular markings and white ticks on the wings."
Barry Henwood, moth officer for Butterfly Conservation's Devon branch, said: "It is found through most of Africa and may be established in the Azores, Portugal and Mediterranean coasts of Spain and France and eastwards to Lebanon.
"The moth must have travelled a long way to arrive in Exmouth, probably aided by warm southerly winds.
"As with many other rare immigrant moths, it has little chance of becoming established in Britain."
In July the Devon Moth Group also found a Ringed Border moth, a first for the county and only the third recorded in Britain.