Christie-inspiration Burgh Island solar plan rejected by locals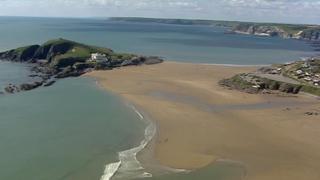 Plans for 210 solar panels on a coastal beauty spot have been rejected by parish councillors.
Bigbury councillors voted unanimously against the plans for a solar array on Burgh Island in south Devon.
The owners of an Art Deco hotel on the island, which was once frequented by author Agatha Christie, want to put the panels on a tennis court.
Tony and Deborah Orchard said they would make a "significant contribution" to the hotel's energy consumption.
The plans will now go to South Hams District Council for consideration.
'Totally inappropriate'
Councillor Rose Owen told the parish council: "I agree with the need for sustainability and finding alternative methods of producing power.
"But it is an area of outstanding natural beauty and it's a historic island so it is totally inappropriate and out of place."
More than 30 objections have been received against the panels including from Sheila Mead of Bigbury-on-Sea, which faces the island.
She said: "I am not against solar panels, but only when they do not have a detrimental impact on the environment visually.
"The island would instantly lose its charm should the panels be allowed."
The hotel owners, who have been unavailable for comment, said on the application the array would be of "dark grey non-reflective glass" and shielded by hedging.
---
BURGH ISLAND
Inspired the setting for Agatha Christie novel, the Hercule Poirot mystery Evil Under the Sun
The 2002 TV adaptation of Christie's Evil Under The Sun used the island as a filming location
Hotel visited by playwright Noel Coward in 1930s
Several scenes from the BBC's 1987 dramatisation of Christie's story Nemesis were also filmed in the hotel
Brit Award-winning singer Ben Howard released an EP named after the island in 2012
---