Dawlish sea wall is damaged again by waves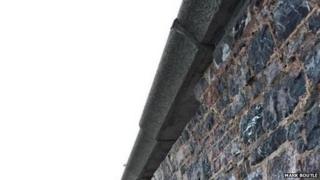 Part of a sea wall has been damaged after £35m of repairs following winter storms.
A hole appeared in the sea wall at Dawlish in Devon on Tuesday night as trains were forced to stop by waves crashing over them.
A section of wall was destroyed in storms last winter, leaving Cornwall and much of Devon without train services to the rest of the UK.
Network Rail said the "minor damage" would be fixed.
Train services were stopped from February to April after storms destroyed the sea wall protecting the railway track.
Now a gap has appeared under coping stones which have been dislodged on the sea wall.
A Network Rail spokesman said: "The sea wall at Dawlish regularly suffers minor damage after a storm due to its close proximity to the sea.
"This is why a team is tasked with checking the wall daily and carrying out minor repairs.
"The minor damage that occurred during last night's storm was not to the new section of the wall and will be repaired shortly."
Network Rail is looking at creating a new inland route as a back-up to the Dawlish line.
Although some trains were delayed by the severe weather on Tuesday night, the damage to the wall has not led to problems with the service.