Torbay cataract surgery patients receive antibiotic overdose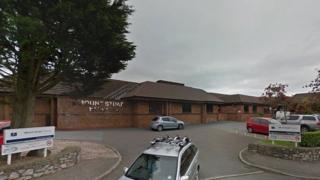 Nineteen patients received an overdose of an antibiotic directly into their eye during cataract surgery, a hospital report has found.
Two patients were "seriously harmed" and four others "show symptoms" following treatment at Mount Stuart Hospital in Torbay, Devon, in July.
The hospital said the error was a "process failure" and "human error" with three members of staff suspended.
The suspension of cataract surgery at the hospital has since been lifted.
The surgeon's assistant, the consultant surgeon and the second scrub/circulating practitioner have been suspended and are undergoing a disciplinary process.
The operations were carried out privately on behalf of the NHS at Mount Stuart Hospital.
Torbay Hospital was made aware of the problem when two patients attended its accident and emergency department with eyesight problems after treatment at Mount Stuart.
Gill Gant, from the South Devon and Torbay Clinical Commissioning Group, said: "We are satisfied that the hospital has learned important lessons from this incident and that it has acted swiftly to make the necessary changes that will ensure future safety for patients."
'Sincere apologies'
A statement from Mount Stuart Hospital said it offered "sincere apologies".
"As soon as we realised that there was a potential problem all patients were recalled by Mount Stuart Hospital and then by Torbay Hospital."
The hospital said it was monitoring all patients concerned.
The Care Quality Commission (CQC) undertook an unannounced inspection after the incident.
Its report said immediate action had been taken to ensure the safety of people using the service.
"A full investigation had taken place and an action plan implemented to reduce any further risks.
In August compensation claims were made against Vanguard Healthcare after some patients who had undergone cataract operations were left with blurred vision at the NHS hospital Musgrove Park in Somerset.