Exeter legal highs shop Wicked 'ceases trading'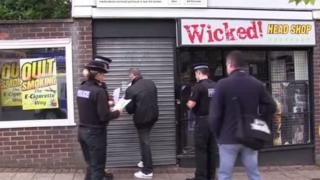 A shop selling legal highs has closed after the owners decided not to fight an order by police.
The Wicked shop in Exeter was closed on Monday by Devon and Cornwall Police after complaints about anti-social behaviour by customers.
Wicked has now "ceased trading" after deciding not to oppose a six-month closure order, said the force.
A police spokesman said it followed "complaints over a sustained period" of "nuisance and disorder by clients".
The shop was closed for 48 hours on Monday by police who were due to apply for a six-month closure order at Exeter Magistrates Court on Thursday.
The owners of the shop were unavailable for immediate comment.
It is thought to be the first anti-social behaviour action against a legal highs shop in England.