Parents oppose new £2.6m Chagford school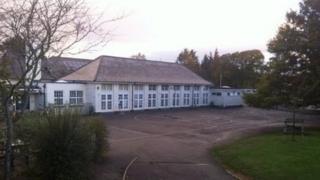 Plans for a new £2.6m village school in Devon have been criticised as a waste of tax payers' money by some parents.
Chagford Church of England Primary School, constructed in the 1930s, has been shortlisted to receive government funding for a rebuild.
But parents said a proposed new building could be smaller and less attractive, and a refurbishment was all that was necessary.
Governors said the proposal was "too good" to withdraw from.
'Massive decision'
Devon County Council - which is not involved with the proposal - has deemed the school, which has about 130 pupils, in need of improving either through renovation or rebuilding.
The money has been earmarked by the government's Priority Schools Building Programme through the Education Funding Agency.
However, critics said hundreds of people had signed a petition opposing a rebuild.
They also claimed a previous head teacher said it would only cost about £250,000 to complete any refurbishment works on the building, previously a secondary school.
Parent Jonathan Skilton said: "It's a massive decision for Chagford. If they were able to redirect some of the money into the school, that would be perfect. But they came and said: 'It's a fait accompli, it's done deal'."
Paul Seaton-Burn, acting chairman of the school's governors, said: "The school has been listed as one of eight failing substandard school buildings in the county.
"The opportunity of £2.6m being invested of central government money is too good for us to be able to withdraw at this point in the process."
A public meeting is to be held to discuss the plans.