Struggling Bicton agricultural college merges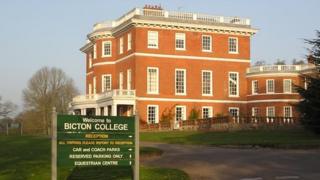 A struggling Devon agricultural college is to merge with Cornwall College.
Bicton College in Devon announced the link-up with the 45,000-student Cornwall College after a review into its future.
Bicton, which has about 2,500 students and 300 staff, started in 1947, but in 2010 faced closure over £3m of debts.
Cornwall College, which includes the Duchy College's Rural Business School, said it was "hugely excited" about the move.
Philip Rees, chairman of Cornwall College board, said in a statement: "Both organisations bring extensive links and a shared passion for supporting the land-based sector in the South West.
"This merger will extend choice and access to land-based training, skills and research for more learners and employers across the region."
A formal merger is expected around the middle of next year.
Bicton spent £1.3m more than it received in income last year according to its accounts.
A spokeswoman said the "issue of historical debt would be resolved after the merger", but declined to go into more detail.