Plymouth University Wendy Purcell: No confidence vote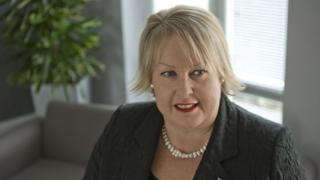 Academic staff at Plymouth University have backed a vote of no confidence in Wendy Purcell, the vice chancellor who has been suspended.
Almost 250 members of the University and College Union backed the motion which said problems at the university risked damaging the institution.
Prof Purcell is currently suspended while complaints about her conduct are investigated.
The university, which employs about 3,000 staff, declined to comment.
Prof Purcell's office was not immediately available for comment.
The vote follows a report in the Times Educational Supplement which quoted Prof Purcell's solicitor saying she was a "successful vice-chancellor" who is respected "amongst staff, students and the wider community".
UCU regional official, Philippa Davey, said: "This vote shows that in reality academic staff have no faith in the leadership and decision-making of Wendy Purcell.
"The time has come for a new culture of accountability, transparency and openness at Plymouth."
The establishment has been in turmoil after a boardroom feud left it without Prof Purcell and its chairman William Taylor - its two most senior figures.
Mr Taylor resigned following claims of sexual harassment, which he has "categorically" denied.
Plymouth Argyle's boss, the businessman James Brent, will become the university' s new chairman of governors on 3 November.
---
Timeline of events
---