Trapping beavers poses drowning risk, claims expert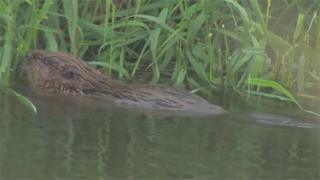 A former scientist fears wild beavers could drown by a fast-rising river if they are trapped by officials.
Tom Buckley says the River Otter in Devon can rise by more than 1m (3ft) overnight after heavy rainfall.
And he wants the Department for Environment (Defra) to drop plans to rehome the six beavers.
Defra, which thinks the beavers could be carrying a disease dangerous to humans, said it would not trap in flood-prone areas.
Retired environmental scientist Mr Buckley has written to Defra minister Lord de Mauley saying a trapping licence application by Defra to Natural England did not consider a swift rise of the river.
He told BBC News: "Defra has carried out no assessment of where they are going to put the traps and how the location could be affected by rising water levels.
"So there are no measures that have been taken to make sure the beavers don't drown."
Devon-based ecologist and beaver expert Derek Gow said: "The river rises very swiftly at this time of year and is one of the problems with trapping animals.
"Young beavers rely on their social units and if the adults are trapped the young ones could die of starvation and hypothermia."
It is unclear where the beavers, including three juveniles, came from, but it is believed they are the only wild beavers in England.
Mr Buckley said the beavers had made homes in the riverbank and had felled a "small number" of willow trees which they feed on.
Defra said the beavers may have tapeworm, which can cause serious disease in humans.
It admitted that its trapping agency, the National Wildlife Management Centre, does not have experience of catching beavers, but it had consulted with the Royal Zoological Society of Scotland which had direct experience of beaver trapping.
A spokeswoman said: "Traps will only be placed in locations which are not at risk from flooding.
"All decisions will be taken with the beavers welfare firmly in mind."