Teignmouth bulldozers prepare beach to withstand storms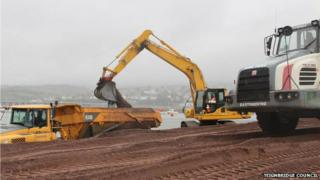 Diggers and bulldozers have started shifting 10,000 tonnes of sand at a beach to protect a resort from winter storms.
Sand is being moved from The Point Spit at Teignmouth, Devon, to the front of The Point car park.
The aim is to sap the power of storm-driven waves like those that hit the south Devon coastline in February.
It follows a survey which showed the sand needed to be built up to create a barrier to damage.
Councillor Kevin Lake, Teignbridge District Council's executive spokesman for environmental services, said: "This is a great opportunity for us to provide the seafront with an extra protective layer that can help it withstand the ferocity of storms like we had in winter.
"Many people will remember the destruction left on the seafront when the waves destroyed flower beds and ripped up asphalt in The Point car park.
"We want to ensure the beach is fighting fit for winter and we can only do that by transporting materials from the Point to the Town Beach where it has been eroded."
The work is expected to last three weeks.