Legal fight begins to save family of beavers in Devon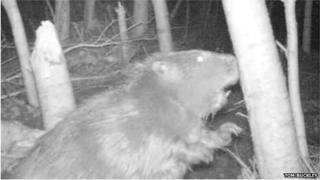 Campaigners have begun legal action to prevent the government from capturing a family of wild beavers in Devon.
Friends of the Earth said because groups already live in the wild in Scotland, the beavers are protected in England under EU laws.
The River Otter beavers are believed to be the only wild ones living in England.
The government said they could be carrying disease and wants to test and re-home them in captivity.
The three beavers, thought to be two adults and a juvenile, were first reported to be living on the river in the summer of 2013 and no date has been set for trapping them.
The Department for Environment, Food and Rural Affairs (Defra) said the beavers could be carrying a disease "not currently present in the UK".
Friends of the Earth has filed papers at the High Court in London requesting a judicial review into whether Natural England followed the correct procedures in issuing licences for capturing the beavers.
Spokesman Alasdair Cameron said: "You cannot just capture a population without considering its conservation status.
"They are entitled to protection as a legally protected species under European law.
"We know that beavers can bring many benefits, such as boosting fish stocks, improving biodiversity and helping to prevent flooding - as well as injecting a little more joy into our landscape."
A Defra spokesperson said: "Beavers have not been an established part of our wildlife for the last 500 years and their presence could have a negative impact on the surrounding environment and wildlife.
"These animals may also carry a disease which could pose a risk to human health.
"Once captured and tested, we intend to rehome them in a suitable location, and all decisions will be made with the welfare of the beavers in mind."