Greg Taylor death: Killer driver's sentence 'no justice'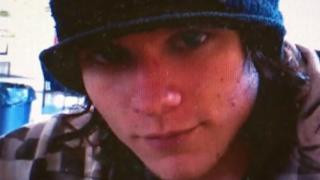 A woman is furious a driver who killed her son was spared jail despite the judge hearing about a series of previous convictions.
Motorcyclist Greg Taylor, 19, from Buckfast in Devon was killed by the car driven by Niall Darvell.
Darvell admitted causing death by careless driving and driving without insurance and received two six-month terms suspended for two years.
The Ministry of Justice said it was planning a review of sentencing.
Darvell, from Trelissick Road, Paignton, was sentenced at Exeter Crown Court last Friday, following the fatal crash in August 2013.
The court heard Darvell had been banned from driving before and in 2007 he drove while disqualified and without insurance.
In 2012, he was convicted of a Class A drug offence and again of driving without insurance.
Car 'appalling state'
Mr Taylor's mother Bev said: "I was told by a police officer that he would definitely get a custodial sentence with a starting point of five years because of the aggravating factors.
"The judge got it wrong.
"He didn't listen to what people were saying and spent more time making excuses for the driver's bad behaviour than he did on the tragedy of the accident."
As he passed sentence, Judge Simon Carr told the court the VW Golf Darvell was driving was in "an appalling state of repair and not roadworthy" and "his driving that night fell well below the level appropriate".
According to guidelines of the Sentencing Council, the penalty for causing death by careless driving can range from a community order to a maximum of five years in jail.
Justice Secretary Chris Grayling announced a review in May of driving offences and penalties after concerns raised by victims' families.
Justice Minister Mike Penning said: "Driving offences can have very serious and sometimes devastating consequences for victims and their families.
"That is why we are looking closely at the law in this area and have announced a review of driving offences and penalties.
"Judges already have tough sentencing options available to them for driving offences. Sentencing in individual cases is a matter for the judge, based on the full facts of each case."
Judge Carr declined to comment on the guidelines.
The Attorney General's Office said there could be not an appeal on the sentence.
A spokeswoman said that it was "not because the offence was not serious", but it was not included as eligible for appeal in the unduly lenient sentence scheme.
The office said in a statement: "The offence of causing death by driving without due care and attention is not eligible for the unduly lenient sentence scheme and therefore the Attorney General is unable to consider it."
This story was amended on 23 October, to clarify the comments made by the Attorney General's Office