Free HIV tests offered by post from Derriford Hospital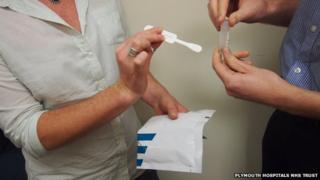 A hospital in Devon is offering free HIV testing by post.
Derriford in Plymouth has launched a trial scheme in which it posts oral test kits which have been ordered via the internet.
A number of online pharmacies offer HIV tests by post but charge about £40.
The hospital said its service would reach people too embarrassed to use sexual health clinics. The kit will will include advice on what to do in the event of a positive test.
'People reluctant'
Dr Zoe Warwick, of the Genito-Urinary clinic, said it was the "first trial of its kind" in the UK and would benefit those on low incomes.
She said: "Some people are reluctant to have face-to-face consultations on HIV at a clinic, so this gives them an opportunity to test in their own home in their own time.
"We believe the ease and convenience of testing this way will increase testing in a previously untested group of people and will encourage those who consider themselves at lower risk to test."
Steve Jones, national director at Terrence Higgins Trust, said: "This is a positive step forward in encouraging people who have never tested for HIV, or who haven't tested for some time, to test for the virus.
"We had an overwhelmingly positive response to our own HIV home-sampling scheme, so we know schemes like this are very good at reaching people who are unlikely to visit their local clinic."