Baker Street saxophone player Raphael Ravenscroft dies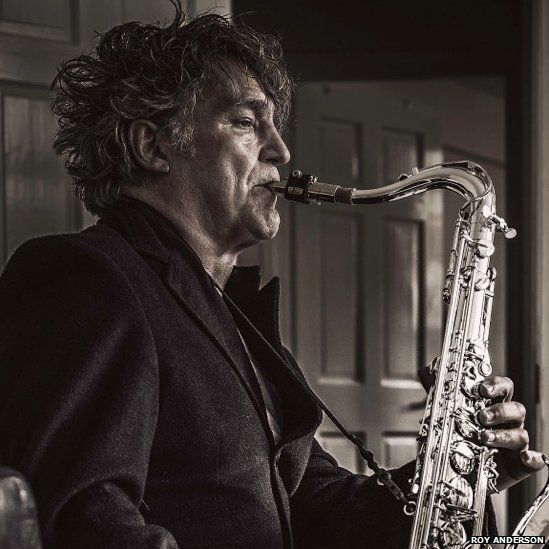 The musician behind one of the most recognisable saxophone solos - on Gerry Rafferty's hit Baker Street - has died.
Raphael Ravenscroft, 60, who found fame almost overnight following the release of the 1978 track, died following a suspected heart attack early on Sunday.
He was reportedly paid only £27 for the session with a cheque that bounced while the song is said to have earned Rafferty £80,000 a year in royalties.
In a radio interview in 2011, Ravenscroft said the song annoyed him.
"I'm irritated because it's out of tune," he said.
"Yeah, it's flat. By enough of a degree that it irritates me at best."
Scarlett Raven, Ravenscroft's daughter and a contemporary artist, said it was "incredible" to see how many people her father had inspired.
She said: "He is an absolutely incredible man. You could tell from the way he played that he put his heart and soul into his music.
"He touched your soul and made you want to better yourself. I think he was very proud of Baker Street and that it made people feel good.
"I'm sure a lot of people will put on Baker Street and smile today."
Ravenscroft, who was born in Stoke-on-Trent, had already appeared on Maxine Nightingale's album, Right Back Where We Started From, in 1976, as an arranger but emerged as one of the industry's most prominent saxophonists.
Baker Street reached number three in the UK charts and number two in the US.
Mark Travis, a musician, made a recording with Ravenscroft after the two met on the music scene in Exeter, Devon, where the saxophone player lived in later life.
Mr Travis said: "He was an absolute genius, not just musically but also his presence in the studio. He was such a character.
"When we were doing the recording we talked a lot about his career and in particular Baker Street and how the song, in his eyes and in Gerry Rafferty's eyes, was not anything special until the sax was put on it.
"His addition of what he called a fairly straightforward riff really made the song."
Ravenscroft went on to work with icons such as Pink Floyd, Abba and Marvin Gaye. More recently worked as a session musician for artists Daft Punk and Duffy.
In 1990 Ravenscroft, also a former tutor of music at York College, published a successful instruction book, The Complete Saxophone Player.
In 2011, he recorded a tribute to commemorate the funeral of Rafferty called Forgiveness, which combined his saxophone playing with the voices of Grammy-nominated choir Tenebrae.
This summer he organised a charity gala concert in memory of a local schoolgirl who died after falling from a wall.