Torbay mayor Gordon Oliver sacked as leader of council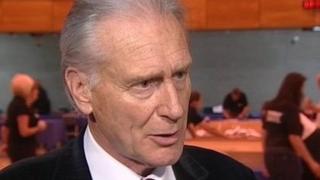 The elected Conservative mayor of Torbay has been sacked from his duties as head of the Conservative group.
Gordon Oliver received a vote of no confidence as leader of Torbay Council by colleagues in a private meeting with a secret ballot.
Mr Oliver said he would consider his role of mayor, but said he was "unclear what had gone wrong".
Councillor Robert Excell, deputy leader of the Conservative group, said a statement would be issued later.
'Personalities a problem'
Mr Oliver said: "I had notice to attend a no confidence meeting in me by my party colleagues and they've defeated me and sacked me as leader of Torbay Council.
"I feel a little disappointed; I thought that in the last three and a half years I've worked pretty hard and supported them and held the group together.
"But they feel they no longer want me as their leader and they'll seek to appoint a new one.
"I don't really know why they've done it. I think personalities are a problem in the group, it always has been.
"Money is a factor with elected members and possibly opportunities to advance themselves and take over the role."
In September Mr Oliver sacked his deputy and four other senior members of the unitary authority's executive.
He also sparked anger by transferring more than £300,000 earmarked for bringing empty homes back into use, to fund a project to improve the harbour.
Critics accused him of "putting promenades before people".