Axminster Hospital to merge with Seaton during winter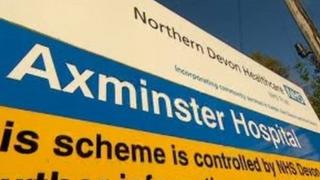 A "temporary" merger of two community hospitals will take place this winter, health bosses have confirmed.
Axminster Hospital's inpatient unit in East Devon will close and merge with Seaton hospital, eight miles away.
The Northern Devon Healthcare NHS Trust insisted the decision was temporary, but could not confirm an end date for the arrangement.
The closure has been condemned by a community group that supports Axminster hospital.
'Not in best interest'
Steve Holt, from the League of Friends at Axminster hospital, said: "There is an argument to say you need to increase the number of community hospital beds.
"The closure of hospital beds from a financial perspective is short-term thinking and not in the best interest of the community."
The NHS trust denied the merger would lead to the full closure of Axminster and said X-ray, theatre and outpatient services would continue.
Both community hospitals currently provide 10 inpatient beds and a range of other services.
Safety risks
From January, Seaton will host one 18-bed inpatient unit to serve both communities.
The NHS trust said the decision would resolve safety risks posed by having nurses working on their own looking after up to 10 patients.
Dr Alison Diamond, chief executive, said: "While there are no concerns about the quality of care offered in either hospital, the lack of registered nurse support puts undue pressure on the service."
She added a single unit with 18 beds was "less likely to be affected by staff shortages at short notice".
The trust said the decision to merge the two hospitals was entirely separate to an ongoing 12-week consultation about the future of community services across North, East and West Devon being carried out by the Northern, Eastern and Western Devon Clinical Commissioning Group.
Earlier in October, hundreds of people attended a public meeting in Axminster to discuss the consultation.