Plymouth Argyle chairman James Brent appointed to university role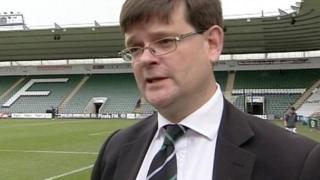 Plymouth University has announced Pilgrims boss and businessman James Brent as its new chairman of governors.
The university has been in turmoil after a boardroom feud left it without its two most senior figures.
Vice chancellor Wendy Purcell is currently suspended while complaints about her conduct are investigated.
William Taylor, the former chairman, resigned following claims of sexual harassment, which he has "categorically" denied.
'Turbulence'
Mr Brent, who is chairman of Plymouth Argyle Football Club and the Royal Devon and Exeter NHS Foundation Trust, said: "All successful organisations have difficult chapters in their histories; in recent months we have had one of ours.
"It has played out in a very public way and I have seen hurt to several people who have provided years of dedicated service to the university.
"I hope, as we move forward, everyone will respect and celebrate the success of the institution and the students we serve, who are at the heart of what we do."
He will take up his position on 3 November.
Greg Clark, Minister for Universities, Science and Cities, said he hoped the "turbulence experienced will be resolved quickly".
He said it would be "wrong" for the government to comment on an independent institution when investigations were ongoing.
---
Timeline of events
Sources: HEFCE report and BBC News
---