Hundreds attend Axminster Hospital cuts meeting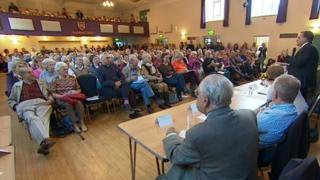 Hundreds of people have attended a public meeting against the planned closure of beds at a community hospital in Devon.
The proposals affecting Axminster Hospital are part of changes planned for services across most of the county.
Campaigners insist the beds are needed and patients will suffer.
But the Northern, Eastern and Western Devon Clinical Commissioning Group (NEW Devon CCG) said it wanted to treat more people at home.
'More evidence'
Retired GP David Evans said he was "very disappointed" at the plans to remove the 10-inpatient beds.
"It does seem a paradox, that at a time when local beds are needed, they should be cutting them," Dr Evans said.
"We're 27 miles (43km) away from the district hospital. Exeter is a long way when you're old, when you're infirm or when your spouse is old and infirm."
Steve Holt, from Axminster Hospital League of Friends, said he wanted to see evidence that treating more people at home would work and save money.
Simon Kerr, from NEW Devon CCG, said: "GPs and clinicians in East Devon are currently discussing the provision of community services, and this includes inpatient beds at community hospitals such as Axminster.
"We would not plan to reduce the number of community hospital inpatient beds in East Devon without increasing the capacity of community services to be able to care for those patients who can be looked after at home and would otherwise have been in the community beds."
Dr Kerr said the NEW Devon CCG - which did not attend Saturday's event - would hold a public meeting to discuss the plans in the town on 21 October.