Coffin protest as charity partly withdraws development plan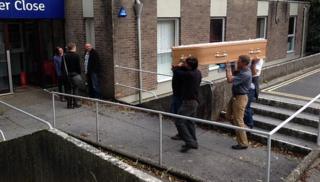 A charity has shelved some of its plans to sell land to developers following a public meeting which featured a coffin protest.
The Dartington Hall Trust had submitted 14 greenfield sites to South Hams District Council as potential housing sites.
At a public meeting on Wednesday, protestors took a coffin containing hundreds of objection letters.
On Thursday, the trust said it would withdraw 45 acres' worth of land.
Dartington Hall Trust runs a 1,200-acre estate near Dartington, which has a population of around 2,000.
Protestors say the trust's 14 proposed sites totalling 100 acres could lead to 500 new homes.
They say Dartington needs around 50 homes and the trust's plan should be delayed until the parish council has had the chance to write its own neighbourhood plan.
Disproportionate
Vaughan Lindsay, who runs the trust, attended the public meeting and accompanied residents on a walkabout on Thursday.
"We recognise the strength of feeling in the community," he said.
"We have also withdrawn sites, amounting to 45 acres, from this process as the potential allocation for Dartington seems disproportionate."
Mr Lindsay also lent his voice to protestors' calls for South Hams District Council to extend the deadline for a strategic housing consultation.
The consultation expires at 16:00 BST on Friday but protestors want it extended to January so they have a chance to write their own neighbourhood plan.
Trudy Turrell, from campaign group Don't Bury Dartington Under Concrete, welcomed the news but said the sites withdrawn were already unlikely to have been approved by the district council.
"I'm pleased but we won't let up," she said.
"They need to withdraw all the sites, that's the only thing that will reassure people."