Anger at Dartington Hall Trust's greenfield plans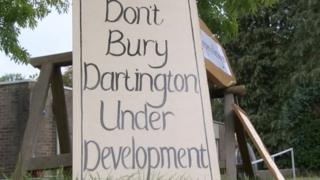 Dozens of angry residents are campaigning against a charity which plans to sell off its land to developers in Devon.
The Dartington Hall Trust has suggested 14 greenfield sites which could result in up to 500 houses being built in the village of Dartington.
Campaigners carried a coffin into a public meeting on Wednesday containing hundreds of letters of objection.
The trust said it wanted to work with residents and balance the books.
At the meeting dozens of residents voted unanimously against the plans and claimed too many houses were proposed.
They called for the proposals to be withdrawn, but the trust refused.
'Out of the window'
The charity runs the Dartington Estate and sustainability projects.
One resident at the meeting said: "It's obvious he's [trust chief executive] just trying to make money. The whole idea of Dartington [Hall Trust] has really gone out the window".
The proposals are to be included in the South Hams District Council's strategic plan, which if approved, will give a green light to developers to submit applications.
Trudy Turrell, from campaign group Don't Bury Dartington Under Concrete, said: "The clear message was, 'please withdraw all of your greenfield sites from the South Hams strategic plan and then we can work together to plan them together'.
"If we have to fight for every greenfield we will, I can't see this community backing down. "
Vaughan Lindsay, chief executive of the Dartington Hall Trust, said the trust wanted to work with the community, but did not want to withdraw any of the applications so it had "options for the future".
He added the trust "needed to generate capital receipts".