Plymouth University boss resigns after sex harassment claim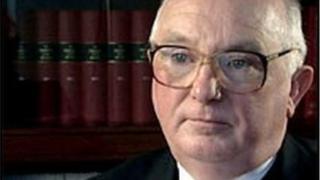 A university boss accused of sexual harassment has resigned.
William Taylor, chairman of Plymouth University, has announced he will leave his post with immediate effect.
Mr Taylor, a retired judge, is facing claims by a number of women which include discriminatory and inappropriate behaviour. He has "categorically" denied the allegations.
Mr Taylor said he was standing down because "of the very public focus on allegations made against him".
'Grotesque distortions'
The allegations were submitted by vice chancellor Wendy Purcell in July.
Prof Purcell is facing a separate investigation into her conduct. She was suspended from her £288,000-a-year post in June.
The university is yet to reveal the reason for the suspension.
Mr Taylor said: "The allegations are either wholly untrue or are grotesque distortions of the facts.
"Indeed, my family, friends and those who know me best do not recognise these matters and, like myself, question the motives of those who have made them."
On 23 September, a BBC investigation revealed the first details of claims about Mr Taylor's conduct, including lewd jokes at formal occasions, unwanted kissing and unwanted hand-holding.
Mr Taylor said the allegations made against him were "potentially distracting from the current investigation by the board into the conduct of the Vice-Chancellor".
A special committee was convened by the university following the suspension of Prof Purcell.
She is expected to give evidence to the committee on Thursday.
Mr Taylor said: "In my eight years with the university I really wanted the very best for it and that continues to this day.
"But, I feel that the very public focus on me potentially distracts the special committee and the board from what is on-going; that I do not want.
"I have come to the very reluctant decision that my continued presence on the board, whether or not as its chairman, may not serve the best interests of the university, as I have always strived to do."
A senior barrister was appointed by the university in August to support the investigation into the allegations against Mr Taylor.
Acting chairman, Steve Pearce, said: "Judge Taylor has worked tirelessly in support of the university for the past eight years and more recently as our chairman of governors.
"His decision to stand down from the board comes at a time when he has been under considerable pressure arising from allegations which he strenuously denies.
"The concerted media coverage and anonymous leaks at a time when two confidential investigations are taking place have meant that he has been unable to respond."
---
Timeline of events
Sources: HEFCE report and BBC News
---