Torbay mayor Gordon Oliver sacks deputy and colleagues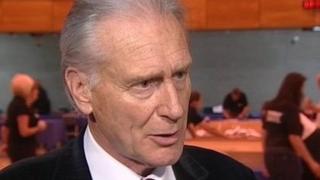 The elected Conservative mayor of Torbay has sacked his deputy and four other senior members of the unitary authority's executive.
It follows a meeting last week at which Gordon Oliver faced a rebellion in Tory ranks. Conservative colleagues voted against him on several issues.
BBC Devon understands Mr Oliver plans to replace his former deputy David Thomas with Derek Mills.
Mr Oliver, who was elected in May 2011, has yet to comment.
'Common decency'
The council's executive includes up to nine councillors chosen by the mayor who help and advise him.
Mr Thomas, who was also council executive lead for strategic planning, housing, energy and environmental policy, said he received an email from Mr Oliver asking him to resign.
Mr Thomas said the reason Mr Oliver gave was Mr Thomas's mother-in-law's poor health.
The former deputy mayor criticised Mr Oliver for not having the "common decency" to phone him.
He also said: "I am not the mayor's puppet. I'm not prepared to just say yes or just say no. I do stand with my integrity intact.
"I will, and have, provided challenge and it's probably that challenge which will cost me the role of deputy mayor."
There have been several issues over the last few weeks where Mr Oliver seemed to be at loggerheads party colleagues.
The common theme is disagreements over where council cuts and savings should be made.
Last week Mr Oliver sparked anger by transferring more than £300,000 earmarked for bringing empty homes back into use to a project to improve the harbour.
Critics accused him of "putting promenades before people", saying he needed to focus more on helping the vulnerable.