Torquay flats evacuated over fire risk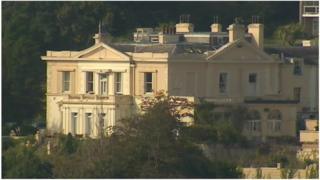 Residents have been moved out of flats in a Devon seaside resort after it was judged a fire risk.
Devon & Somerset Fire & Rescue Service investigated after a blaze in a flat at former Bishops Court Hotel, Torquay.
The fire service, which issued 14 prohibition notices last year, said they were for "imminent threats to life".
Torbay Council also issued a prohibition order involving 11 apartments.
"The issuing of these notices was a last resort and alternative safe accommodation had to be found for all residents," said the fire service.
"The service and its partners are committed to ensuring that people who live, work and visit Torbay are safe from the consequences of fire."
The owner was unavailable for comment.