£9K quote for Plymouth University £100K chairs video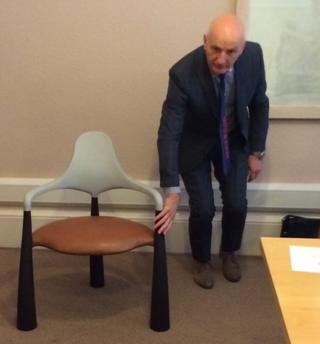 Plymouth University was quoted more than £9,000 to make a video about a set of chairs which cost about £100,000, documents seen by the BBC reveal.
The seven chairs by furniture designer John Makepeace were commissioned for graduation ceremonies.
The university said the video would be used as a "teaching and learning resource".
It refused to say how much the video cost, but the BBC has seen a quote from Hampshire-based UKSV for £9,350.
'Promotional purposes'
The quote said: "Further to our meeting and discussion last week, I'm pleased to be able to provide you with the following quotation for the filming of the design and build of the recently commissioned graduation chairs."
UKSV declined to comment, citing "client confidentiality".
The university said in a statement: "As a unique contemporary design project by one of the world's leading designers, the making of the bespoke furniture will be documented as a teaching and learning resource for art and design students, wider public interest and the university archival and promotional purposes."
The chairs are costing a total of £96,890 the university said.
"As planned, the university is launching a scheme to secure external funding through sponsorship and donations, as is usual with such long-term legacy and heritage projects," it said.
The expense was queried by some staff and students and, in an email seen by the BBC, the university's PR department warned the story of the chairs could cause reputational damage.