South Molton paper's homosexuality column criticised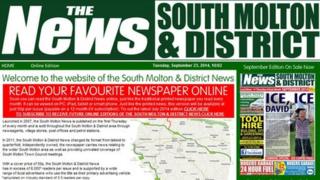 A newspaper column that branded homosexuality "an aberration", linking it to the collapse of "great empires", has been criticised by gay rights groups.
The South Molton and District News article was written under the pseudonym Grave Turner.
Editor Paul Henderson said he stood by his decision to publish it but said he was not homophobic.
He confirmed police had questioned him after a complaint was made.
'Treated with sympathy'
The columnist has not commented on the issue.
The paper has a circulation of about 2,000 in north Devon, with the article generating five complaints since it was published on 3 September, said Mr Henderson.
Michael Halls, from the Intercom Trust, which supports the lesbian, gay, bi-sexual and trans community, said: "We have a lot of respect for the idea of free speech and we don't want to stop people expressing views and opinions but this article is hurtful and offence and that is deplorable. It's also full of errors.
"I really wonder what the motivation of the author and the publisher could have been."
The article said: "Clearly homosexuality is a naturally occurring phenomenon, that is nonetheless, an aberration.
"Such persons as suffer from it should be treated with sympathy and understanding.
'Anarchy take over'
"It was not homosexuality per se that caused the collapse of the great civilising empires of Greece, Rome, Britain, et al, but rather public acceptance of it was the exclamation mark that signalled the end of empire.
"Slowly, but surely, anarchy will take over."
Richard Lane, from Stonewall, said: "It seems that Mr Turner needs to spend a little bit more time re-reading his history books and a little less time writing unpleasant articles denigrating loving, committed same-sex couples."
Mr Henderson said: "It was very, very close to the mark. It has not broken any laws as far as I'm aware.
"I'm not anti-gay or homophobic.
"It has created interesting discussions and a full right of reply will be published in the next edition."
Mr Henderson said he had been questioned by Devon and Cornwall Police following a complaint to its diversity unit, but as far as he was aware no further action would be taken.
The force said it was aware of the article but was unable to provide further information until they had spoken to all involved.