Plymouth University's graduation chairs 'to cost £95k'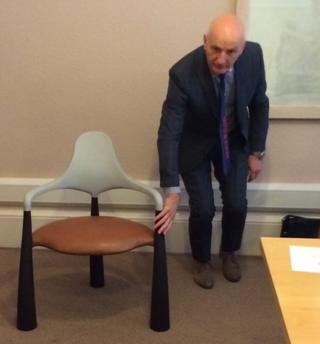 Seven chairs being bought by Plymouth University for a reported £150,000 will actually cost £95,000, the institution says.
The chairs, handcrafted by furniture designer John Makepeace, were commissioned for graduation ceremonies.
The university said the seats would cost about £13,500 each and had been commissioned by now suspended vice chancellor Professor Wendy Purcell.
She later decided she wished to have no involvement, it added.
Sources had told the BBC the project was due to cost more than £150,000.
The expense was queried by some staff and students and, in an email seen by the BBC, the university's PR department warned the story of the chairs could cause reputational damage.
---
John Makepeace
Born in Solihull in 1939, one of five children
Awarded an OBE in 1988 for services to furniture design
Received lifetime achievement awards from the American Furniture Society in 2004 and the Furniture Makers Company in 2010
Honorary Fellow of the Arts at the University of Bournemouth
Currently based in Beaminster, Dorset
Source: johnmakepeacefurniture.com
---
The university said the chairs had been commissioned by Prof Purcell and approval was "not sought from the university executive nor the university board".
Prof Purcell then decided in early June she wished to have "no further involvement" with the project, then at an advanced stage, but she "did not advise cancellation of the project", it added.
The university said the chairs would be commissioned over a two-year period.
"As planned, the university is launching a scheme to secure external funding through sponsorship and donations, as is usual with such long-term legacy and heritage projects," it said.
Previously, Professor David Coslett, deputy vice chancellor, said the university's annual graduation week attracted more than 25,000 students and guests and injected about £700,000 into the city's economy.
Prof Purcell is currently standing aside as vice chancellor and chief executive pending an investigation into her conduct.
In a separate investigation, the conduct of chairman William Taylor is also being looked into.
Mr Taylor, a retired judge, stood aside after claims of sexual harassment were made by a number of women and students.
The claims were submitted by Prof Purcell. The university is yet to reveal the reason for her suspension.