Mountain climb for double amputee cancer sufferer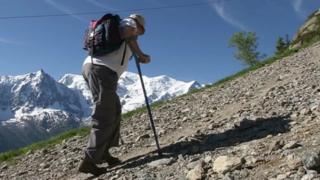 A double amputee who underwent major bowel cancer surgery has climbed a mountain in the French Alps.
Norman Croucher, 74, from Devon, lost his legs when he was hit by a train when he was teenager.
He was diagnosed with cancer in 2012 and started planning the fundraising trip to climb the mountain, Le Brevent, while he was having chemotherapy.
Charity Bowel Cancer UK said it was a "fantastic achievement" given his personal circumstances.
'Helped psychologically'
Since being diagnosed, Mr Croucher has had two operations, radiotherapy and chemotherapy and said "as far as he knew", he was now free of cancer.
"Having a target has helped me psychologically. It's what I've been aiming for," he said.
Mr Croucher said he hiked from a station at Le Brevent, which was 6,558ft (1,999m) above sea level, to the top - a height of 8,284ft (2,525m).
"It was quite something to reach the top," he said.
His wife Jude Croucher added: "A year ago he could only walk to the bottom of our street. He's done really well."
Mr Croucher raised £5,500 for Devon-based charity Hospiscare and is planning further hikes and climbs.
Deborah Alsina, chief executive of Bowel Cancer UK, said his story was "truly inspiring".