Dame Hannah Rogers School to reopen after 'safeguarding issue'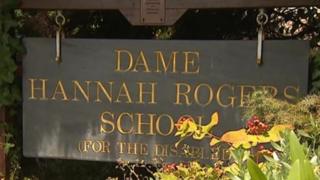 A school and children's home closed for six weeks because of a "safeguarding issue" is set to reopen.
The Dame Hannah Rogers School in Ivybridge, Devon, will reopen from Monday, the chief executive said.
In August, education regulator Ofsted closed the school, which caters for profoundly disabled students, after the trust that runs it reported a potential safeguarding issue to the police.
This resulted in subsequent "multi-agency investigations".
Bronwen Hewitt, chief executive of Dame Hannah Rogers Trust, said: "We are extremely pleased to confirm that the school and children's home will be reopening.
"The police have confirmed their support and we expect an update from them very soon."
She said the children's home would be opened on a phased approach which would be reviewed regularly with a view to increasing the numbers in the future.
She said the school numbers were unaffected.
'Harrowing time'
"It has been a really difficult and harrowing time for everyone involved, especially the families," Ms Hewitt said.
"Staff have worked tirelessly throughout this and we look are really looking forward to welcoming the children and young people back to Hannah's.
"I would like to thank everyone from the bottom of my heart for their support. Our parents, supporters and the local community have been amazing."
About 40 families use "Hannah's", a specialist school for profoundly disabled children and young people.