'Turf war' fear on Devon household waste sites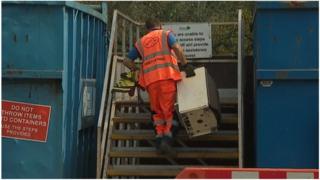 A proposed ban on 'outsiders' using a household waste site has sparked a row between local authorities.
Devon County Council wants to stop people from Torbay's unitary authority area leaving rubbish at one of its household waste sites to save money.
Torbay's deputy mayor called the proposal "petty" and urged a rethink.
David Thomas said he feared a "turf war" on household waste sites. The county council said it was not responsible for Torbay's waste.
The county council says Torbay residents make up 20% of the site users at its Newton Abbot site and that is costing the authority about £190,000 a year in landfill tax.
The authority is proposing that Torbay residents will no longer be able to use Newton Abbot.
All three councils have worked in partnership in waste since 2008 when they created the South West Devon Waste Partnership.
'Last resort option'
An incinerator in Plymouth is due to take waste from all members of the partnership.
Plymouth City Council is already stopping anyone not from the city using its household waste site at Chelson Meadow to save money.
Mr Thomas said: "Do we have to-start getting so petty that if you live in Marldon or Stoke Gabriel (outside Torbay) you can no longer come to Paignton?
"What's the environmental impact on that?"
He added: "It has the potential to be damaging to the Partnership if we allow it.
"We need to work together and rise above this and I hope Devon will look at this again."
Roger Croad, Devon County Council Cabinet member for waste said: "This is a last resort option that we've tried hard to avoid but in these times of financial pressure we simply can't afford to ignore this issue."
Plymouth City Council said: "The bottom line is that each authority is facing severe financial pressures and can only afford to fund services for the people who live within its boundaries."