Cyclist death and injury rate rises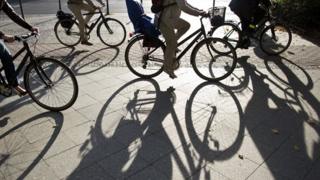 The number of cyclists killed or seriously injured in Devon rose by 27% to 33 in 2013.
The finding is part of a report commissioned by Devon County Council which will be discussed on Monday.
Traffic fatalities are down overall, although serious injuries have risen 7%.
Bob Scoble, a cyclist who was knocked down by a lorry, said road users must learn to share the road.
He told Radio Devon the death toll was "dreadful".
'Vulnerable road users'
"Luckily I'm here to tell the tale but unfortunately there are a lot of incidents and events which put me through it again," he said.
"Only last week there was another major accident on the A38 where a cyclist was hit by a lorry. Unfortunately he didn't survive."
Gordon Hook, a councillor and cyclist, said the county council had a responsibility to educate children and drivers.
He is vice chairman of the committee which commissioned the report and said the authority had to make drivers more aware of cyclists, especially children.
A council spokesman said: "Cars are consistently involved in collisions involving serious injury and motor traffic is rising.
"Devon County Council will, therefore, be looking carefully at what it can do to support and protect cyclists and pedestrians, including influencing the skills, knowledge and behaviour of motorists."
Road safety charity Brake welcomed the overall reduction but urged drivers to pay attention.
"It's vital that drivers still look out for vulnerable road users such as cyclists and pedestrians," said a spokesman.
"Driving is the most dangerous thing most of us do on a daily basis, so we need to concentrate on the task at hand to make sure we're not putting our lives, or anyone else's lives at risk."