Honiton triple-death blaze 'started by child'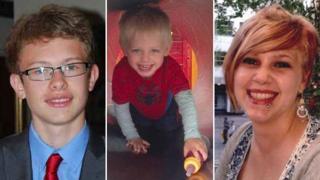 The deaths of two teenagers and a toddler in a house fire started by another child were accidental but contributed to by neglect, an inquest has found.
Rosie Bennellick, 17, her boyfriend Andy Gunn, 18, and her brother Harvey Bennellick, three, died in the blaze.
The inquest in Exeter heard that three smoke alarms at the council house in Honiton, Devon, had been disabled.
Five other people in the house escaped the fire, on 5 April 2013.
The family said a week before the blaze the fire alarms all became faulty.
But the landlord, East Devon District Council, said it had not been told of the problem.
A fire investigator told the hearing that he believed the lives would have been saved had the alarms been in use.
The mother of two of the victims, Miz Bennellick, said the little boy came into their room and said: "I have done something bad."
Ms Bennellick said: "I immediately woke up. I said what have you done? He said there is a fire."
She and three children fled the house while husband Sean tried to rescue the two teenagers and toddler who were still in their upstairs bedroom.
But he was beaten back by the intense heat before fire crews pulled the critically injured children from the house.
Ms Bennellick said: "I was screaming, panicking, I was screaming Rosie's name. They were still in the property."
Rosie and hotel worker Mr Gunn, who lived in Bishopsteignton, Devon, died the next day in an Exeter hospital. Harvey died the following day in a Bristol hospital.
There were three smokers in the house but Ms Bennellick said in a statement that they had strict rules in the house "not to leave lighters lying around".
The inquest heard that in the year before the tragedy Child D had been caught setting fire to some paper in their garden.
Darren Gunn, father of Andy Gunn, said after the inquest: "Three young lives were lost because the smoke detectors were disconnected, so we wouldn't want that to happen again.
"My message is don't take the battery out, don't disconnect them and test them regularly because you would not want to be in a situation like we've been in today."
No-one from the Bennellick family were at the inquest.