Six Haldon Hill pitches allocated to travellers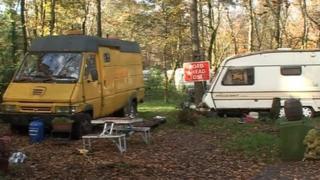 Six pitches have been allocated so far of the 15 available at a £1m travellers' site in Devon.
The site, believed to the first of its type for so-called New Age Travellers, is being built at Haldon Hill near Exeter, and is due to open in December.
Four pitches have been allocated to travellers living at an illegal site nearby and two to travellers from elsewhere.
Teignbridge District Council is allocating the remaining pitches.
The site just off the A38 has been used by travellers illegally for 12 years.
Between 30 and 50 travellers, many of whom have children at local schools, currently live there.
A Teignbridge District Council spokeswoman said there had been 12 "expressions of interest" in living on the new site which will include allotments and a community building.
She said: "We, along with Teign Housing and Devon County Council's gypsy and traveller liaison service, are in the middle of the application and interview process for those who have expressed an interest in moving to the new site.
"We're also giving advice and support to anyone wishing to apply for one of the pitches as well as those who want to know what other housing options are available."
Paula Birbeck, Teign Housing's director of services said: "The site is due for completion in December 2014 where all successful applicants will sign a tenancy agreement and pay rent, a service charge and council tax.
"The tenancy agreement details how vehicles must comply with certain standards and what their responsibilities are as a tenant and what our responsibilities are as a landlord."