Rare marsh fritillary butterfly found at new Devon sites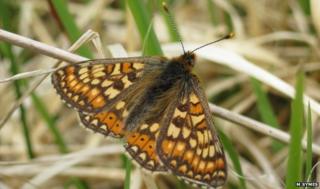 A rare butterfly has been found at seven new sites in Devon, a wildlife trust has confirmed.
The marsh fritillary had previously been recorded at 45 sites in the county's culm grassland area.
Devon Wildlife Trust (DWT) said it was "very encouraging" and added meadow restoration was thought to be the reason for the increase.
Butterfly Conservation said the species was threatened in the UK and across Europe.
Steve Hussey, from DWT, said: "The marsh fritillary is a really good indicator of the health of the local environment.
"Culm grasslands, where this butterfly lives, are a wonderful resource for a wide range of wildlife, from barn owls to orchids."
Culm grassland retains its moisture even through dry summers, making it attractive to wetland birds and butterflies.
Marsh Fritillary
The butterfly was once widespread in Britain and Ireland but declined severely over the 20th Century, a decline mirrored throughout Europe
The species is fully protected in Great Britain and Northern Ireland
Its main food plant is Devil's-bit-Scabious
The species has declined by 46% since the 1970s
Source: Butterfly Conservation