Vince Cable will not intervene in Plymouth University feud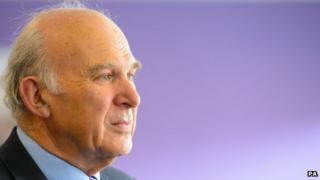 Business Secretary Vince Cable says the government will not intervene in a feud which has rocked the Plymouth University boardroom.
Vince Cable said he hoped two ongoing investigations into the vice chancellor and the chairman of governors would not damage the university.
Vice Chancellor Professor Wendy Purcell was suspended from her post in June.
Chairman of governors, William Taylor, has stepped aside while allegations of sexual harassment are investigated.
He has denied the claims.
Mr Cable said: "This is an internal matter for the university. We certainly don't want it to affect their relationship with the business community which has been excellent.
"Naturally it's good practice to solve these problems quickly and efficiently. I hope they get on and do that.
"This is not something the government is managing or controlling. They are self-governing institutions."
Mr Cable's comments come after Oliver Colvile, Conservative MP for Plymouth Sutton & Devonport, said last month he would discuss the impact of the row with the government.
A spokesperson for the university has previously said it was working to "resolve the current situation as quickly as possible".