Route 39 Academy for 700 pupils rejected by planners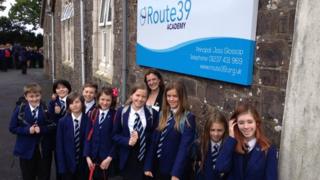 A free school for 700 pupils will not be built in an Area of Outstanding Natural Beauty (AONB) in Devon after councillors rejected plans.
The Route 39 Academy is currently based in an old school in Clovelly with about 110 pupils expected to start this term.
Those behind the plans said the school would offer a different education.
Critics claimed the planned school would look like a "commercial office block" and would ruin the area.
More than 500 people had contacted the council about the plans, with more than 300 of them opposed to the proposal.
Steve Pitcher, from the AONB partnership, said the group "strongly objected" to the plans.
He said: "We just don't think it should be in this location."
Robin Edmonds, a local resident who was opposed to the plans, said: "My gut feeling is whilst the school might be a good idea, it is the wrong location.
"The big worry was they would build a school that demolishes a large part of the countryside. There are a number of other places that can accommodate a school of that size."
Free schools are independent and paid for by central government not local authorities, as with other state schools.
Joss Glossop, principal of the Route 39 Academy, said the school was "desperately needed in this area".
She said: "Our parents state they want a different choice."
Ms Glossop said that the school's ethos and education was based on outdoor learning and working in the natural environment and the plans were "in absolutely the right place".
At the meeting in Bideford planners voted eight to one against the plans.
Those in favour of the school said they were "incredibly disappointed" at the decision and were considering their options.