Wartime Merchant Navy fleet remembered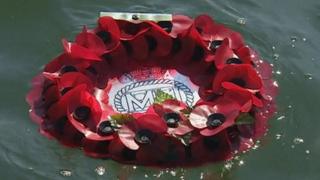 A ceremony has been held in Plymouth to remember those who served in the Merchant Navy during World War Two.
The fleet played a vital role in keeping the country supplied during the conflict when ships had to contend with German U-boats.
More than 30,000 merchant seaman lost their lives in the war.
They endured some of the most perilous conditions on the Arctic convoys to Russia where temperatures dropped to -50 degrees.
Pete Humphrey, a former merchant seaman, said: "We don't appreciate what these chaps went through and they never talked about it.
"If we can give up one day to remember them, that's important."
During World War Two, Britain was dependant on supplies brought across the Atlantic Ocean from North America.
Without them the country could have been starved into submission.
That made merchant vessels a prime target for the German U-boats.
Many people attended the ceremony on Plymouth Hoe to lay wreaths.
Vivien Foster from Clovelly has long campaigned for greater recognition for those who served in the merchant fleet.
She said: "My father was torpedoed, my uncle was also torpedoed off the West African coast and spent 52 days on a raft before being rescued.
"The youngest brother Stanley was lost on an Atlantic crossing. All three were in the Merchant Navy."
Prayers were read during the ceremony remembering those who had died during the war.