Half-sisters from Exeter and Poland reunited after World War Two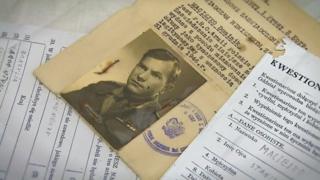 An Exeter woman has been put back in touch with long-lost family in Poland after being separated by World War Two.
Bozenka Pearson, 62, started to trace her older half-sister, Danuta Baran, five years ago.
Bozenka's father had a family in Poland before the war but when the Russians invaded he was sent to prison.
After his release he could not trace his original family and went on to re-marry, but the half-sisters never met.
Bozenka said: "After his release he joined the Polish Second Corps Army in 1942 and eventually settled in England and married my mother.
"He made repeated efforts to trace his first wife and daughter but they had disappeared."
After Bozenka's parents' died she requested her father's army records from the MOD and found her half-sister's name and date of birth and the address she had last lived at with her father's first wife.
She then passed all of this information to the Red Cross in hope they could help with her search.
In January, after telling her story online for a local history website in Exeter, she received an email saying her niece, Beata, was trying to contact her.
"Danuta knew nothing about our father and I sent her copies of his army documents and his passport because that said he was married with one daughter.
"It was important for her to hear that it wasn't that he'd forgotten about them.
"There was even a document my father had signed naming his wife and daughter as family members he wanted to take with him wherever he settled after the war.
"Danuta sent me a photograph of her as a baby, being held by her mother and I said to her, 'that photo was probably taken by dad'.
"I just wish my father had been alive, I really, really do. The next thing we want to do is meet up face to face, which we hope to do soon," Bozenka said.