Exeter stabbing stalker in sentence appeal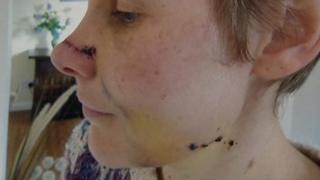 A stalker who subjected a neighbour to a five-year campaign of intimidation before stabbing her is trying to have his life sentence for attempted murder overturned.
Joe Willis was convicted in April of attacking Helen Pearson, from Exeter, with a pair of scissors.
Judge Paul Darlow said he should serve life, with a minimum of 13 years.
His lawyers have lodged an appeal against that sentence, the Court of Appeal has confirmed.
Ms Pearson said: "I'm not going to let it worry me. Willis spent five years attempting to make my life a misery.
"Now he's trying doing it again from behind bars, but he won't succeed.
"As far as I'm concerned, if anything, Willis's sentence ought to be increased. Life should mean life".
A spokesman for the Court of Appeal said Willis's lawyers had "applied for permission to appeal against his sentence" and that would now be heard by a judge.
If granted, the application would go to a full hearing in front of three judges at the Appeal Court in London.
The spokesman said no timescale for any hearing had been decided.
Willis's trial at Exeter Crown Court heard he vandalised Ms Pearson's flat and car and daubed abusive messages on the streets around her house because she refused to go with him to see a band.
Threatening letters were sent to her, a dead cat was left on her doorstep, and her parents were also targeted.
About 125 reports of stalking were logged by Devon and Cornwall Police over the course of five years before the attempted murder last October, in which Ms Pearson was stabbed eight times near St Bartholomew's Cemetery in Exeter.
The Independent Police Complaints Commission is investigating whether police missed opportunities to catch Willis.
The force's professional standards department is also carrying out its own review of the case.