Mount Stuart Hospital cataract ops halted amid safety fears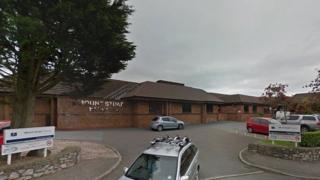 A consultant has been suspended and the NHS has stopped referring patients to a private hospital for cataract operations after reported problems.
Two people attended Torbay Hospital A&E department after being treated at Mount Stuart Hospital in Torquay.
Torbay Hospital, in Devon, said it contacted 19 patients treated on 26 July for an "urgent clinical review".
Mount Stuart apologised and said an inquiry was under way after the consultant's suspension.
'No corrective surgery'
Torbay Hospital was made aware of the problem when two patients attended its A&E department with eyesight problems after treatment at Mount Stuart.
It said none of the 19 NHS patients - all seen on the same day - have needed corrective surgery.
Torbay Hospital and the South Devon and Torbay Clinical Commissioning Group have stopped referring patients to Mount Stuart following the concerns.
David Sinclair, interim medical director at South Devon Healthcare NHS Foundation Trust, which runs Torbay Hospital, said: "We identified this problem at an early stage and were able to recall all the patients affected very quickly.
"Whenever we refer patients to providers, we carry out quality and safety checks and ensure that they meet current legislative and registration requirements."
'Sincere apologies'
Gill Gant, director for patient safety at South Devon and Torbay Clinical Commissioning Group, said: "Patient safety is always the absolute priority, so it is important that these cataract operations are paused until we have absolute assurance that the service is safe."
Ramsay Health Care UK, which runs Mount Stuart, said it offered "its sincere apologies to all patients who suffered complications".
It said: "As soon as we realised that there was a potential problem all patients were recalled by Mount Stuart Hospital and then by Torbay Hospital.
"The consultant concerned has had practising privileges with Ramsay Health Care since 2005 and has been a registered doctor since 1989.
"To date he has completed 4,537 cataracts across the organisation and has a history of delivering excellent clinical outcomes with a complication rate of less than 0.5%."
Mount Stuart added the consultant had been suspended while investigations took place.