Torbay Royal Regatta: Red Arrows display cancelled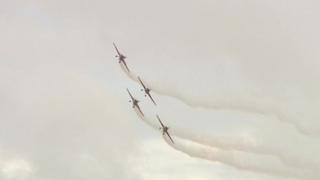 A Red Arrows display at a regatta in Devon has been cancelled because of heavy rain and poor visibility, the Royal Air Force confirmed.
The aerial display team had planned to close Torbay's Royal Regatta.
An RAF spokesman said it was "very unusual" for an air show to be cancelled at the last minute.
He added that all displays were well planned and he doubted an alternative date would be set for another show at the seaside resort this year.
Torbay's Royal Regatta is a six-day coastal event which includes rowing championships, sailing and water skiing displays.