Devon and Cornwall police patrols to crack down on raves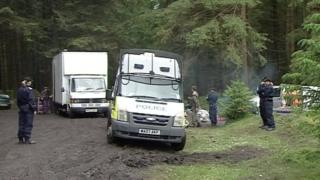 People planning illegal raves in the South West face a police crackdown.
Devon and Cornwall police say they are mounting an "intelligence led" operation to prevent and disrupt un-licensed parties from going ahead.
Supt Craig Downham said unregulated events in isolated areas could be dangerous.
He said Operation Derig would see officers patrol potential areas at risk of illegal gatherings over the bank holiday weekend.
Mr Downham said in summer months the counties can be vulnerable to illegal incursions and raves, such as the problems encountered at Bellever and Davidstowe in the past.
He said: "We have seen incidents where people have got lost in poor weather in very remote areas and come to harm, as well as people attending suffering medical episodes and in need of medical attention - yet due to terrain and the poor management of the rave site it is extremely difficult for police and other emergency services to respond."