Devon town 'furious' over crumbling cliff delays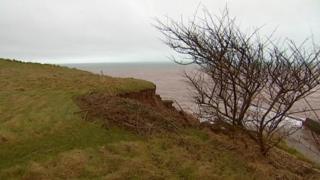 Residents of a Devon town say they are "furious" that plans to shore up sea defences have been delayed for more than a year.
East Devon District Council said it needed to wait for further documents because Cliff Road in Sidmouth is on the Jurassic Coast and a World Heritage Site.
Julie Burdekin, who lives in the area, said her house and garden were at risk.
She said up to 20m of land had fallen into the sea in the past 20 years.
She said: "This matters to the whole town within the reaches of the sea. With another winter coming where we could have bad weather, they could all be in danger again."
Council leader Paul Diviani said: "What we can't do is do things in regard to being illegal or against the rules put in place by other bodies and us.
"We are fully aware of what's happening in terms of the cliffs crumbling. The people who bought there would have been aware of what is happening."