Plymouth University boss steps aside to fight sex harassment claims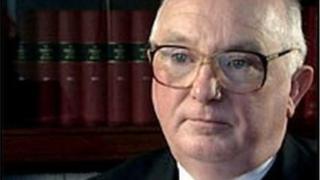 Plymouth University's chairman of governors will "stand aside" while he is investigated about claims of sexual harassment.
Retired judge William Taylor is facing allegations by a number of women.
The accusations were submitted by vice chancellor Wendy Purcell, who is currently suspended as she faces an investigation into her conduct.
Steve Pearce, deputy chairman of governors, said he will take over Mr Taylor's responsibilities.
Mr Pearce, a former Assistant Chief Constable with Devon and Cornwall Police, said: "I can confirm that judge William Taylor has decided to stand aside from his responsibilities as chairman pending the outcome of an independent investigation into allegations made against him, allegations which he strongly denies.
"His duties and responsibilities will now fall to me as deputy chair.
"The board has accepted Judge Taylor's decision, recognising that he has put the interests of the university first in taking this step."
Mr Pearce added that the university was committed to reaching a resolution to the current investigation into the conduct of Prof Purcell "as soon as possible".
A senior barrister has been appointed by the university to support their investigation into allegations against Mr Taylor.
Sources have said complaints include discriminatory and inappropriate behaviour.
On Wednesday Mr Taylor "categorically" denied the allegations, describing them as "defamatory" and "deeply hurtful".
Prof Purcell was suspended from her £288,000-a-year post in June. The university is yet to reveal the reason for her suspension.
The bitter feud between the university's two most powerful executives has been raised with the regulator, the Higher Education Funding Council which has since visited the university.
A report of the visit concluded there was not enough evidence to justify an investigation into the university's governing body, but did recommend an external review of governance.
The university has agreed to a review in the next academic year.
---
Timeline of events
29 May - The Higher Education Funding Council for England (HEFCE) was notified by the university of an internal investigation into the conduct of the vice-chancellor
In early June, the council was contacted by a source at the university about a "governance crisis" and requested HEFCE's intervention
Also in early June, the council received allegations about the conduct of the chairman
18 June - HEFCE's head of assurance visited the university to review documentation
14 August - Pro-chancellor Barbara Bond MBE leaves
15 August - Barbara Bond MBE claims she was "forced out" as a result of the dispute
Sources: HEFCE report and BBC News
---