Lawyers appointed for norovirus guests at Devon park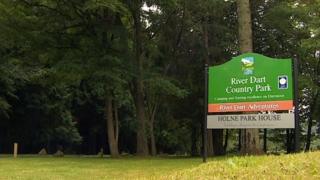 Lawyers have been instructed to act for guests who fell ill with suspected norovirus at the River Dart Country Park near Ashburton in Devon.
Irwin Mitchell said it had spoken to three guests so far "but expected the numbers to grow".
The firm said the guests wanted to know why there was no advance warning of the outbreak and were seeking compensation.
Park managers said they were surprised "because we have been talking to guests on a case by case basis".
The holiday park reopened on Monday after it closed temporarily on 13 August to allow an investigation and a deep clean.
Thorough cleansing
Managers at the country park said more than 90 cases of sickness had been reported.
The site was temporarily closed after discussions with Public Health England.
A spokesperson for Irwin Mitchell said they had been instructed to "gain answers regarding the incident and also help clients secure compensation regarding the illness they have suffered".
Mark Simpson, the managing director at the park said: "We have been assured that the virus was brought into the park by an individual and was not linked to any issues on site beforehand.
"We have also been commended on the speed of our response to this outbreak and the fact that we took the step to close the site to carry out thorough cleansing. This is something we wanted to do, and not made to do by the public health bodies, who we worked with from an early stage."
Earlier in the week, Mr Simpson said people still on site would get a "full refund for the cost of their pitch" and a complementary night stay later in the season or next year.