'Blow up threat' woman Linda Elt convicted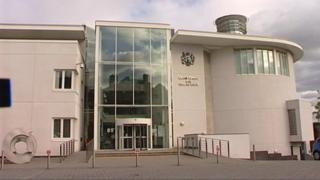 A woman who threatened to blow people up if they attempted to clear buildings on her land has been told she faces jail after being convicted.
Linda Elt, 65, was found guilty of attempting to destroy or damage property with intent to endanger life at Exeter Crown Court.
Elt had denied the charge and said she had not expected anyone to take her comments seriously.
She is due to be sentenced next month after reports are prepared.
'Serious offence'
Elt, of no fixed address, had poured fuel over a digger and held armed police at bay for two hours before being taken into custody during a siege at Lindley, near Chawleigh, Devon, in December.
She came out of a van carrying an open diesel can in one hand and a lighter in the other, the court heard.
She had also previously sent a letter and e-mail to officers at Mid Devon District Council saying she would blow officials up if they came on to her land, the jury was told.
The siege was the culmination of a 20 year-long planning battle to stop her living on agricultural land without permission.
She was trying to stop council contractors removing a derelict mobile home and sheds from the land, which she inherited from her late husband in 1993.
Elt told the court her threats were token gestures.
Judge Francis Gilbert, QC, told Elt to make arrangements for the care of her three dogs because she was likely to be sent to prison.
The judge adjourned sentencing for a probation report but warned she had committed "a very serious offence".