Last auction held at Holsworthy Market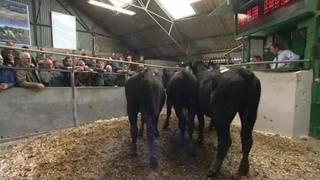 The last livestock auction has been held at a Devon market which has been used for more than 100 years.
The site of Holsworthy Market has been sold to Tesco and Cavanna Homes.
A new £6m market and agricultural business centre is expected to open just outside the town in September.
Pam Johns, of the Holsworthy Business Group, said it was "a huge part of the economy" and without the new market "I feel the town would have died".
In 2013, auctioneers said up to 2,000 animals were sold on market days.
Mark Bromell, from Kivells Auctioneers, said: "My first time visiting this market was in a pushchair. My family before me were using the market as farmers. I am using it as an auctioneer.
"It's a day of mixed feelings. We're very excited about the new facility. Holsworthy is very much a cattle town and the market is at the heart of this. But today is all about saying goodbye to this old girl."
Wayne Stevens, a local farmer, said: "There's a tinge of sadness because we've been here for so many years. I'm excited about the new market. I am sure it will be a great success."
Mr Bromell said he hoped the new market would provide "another 100 years of trading livestock in the town".
On the final day at the market, 1,000 sheep were up for auction before the cattle sales began.